Welcome to the new products page! Below you will find a list of new products relating to commercial overhead doors, overhead garage doors, garage door openers, access control systems, driveway gates, pedestrian gates and more!
---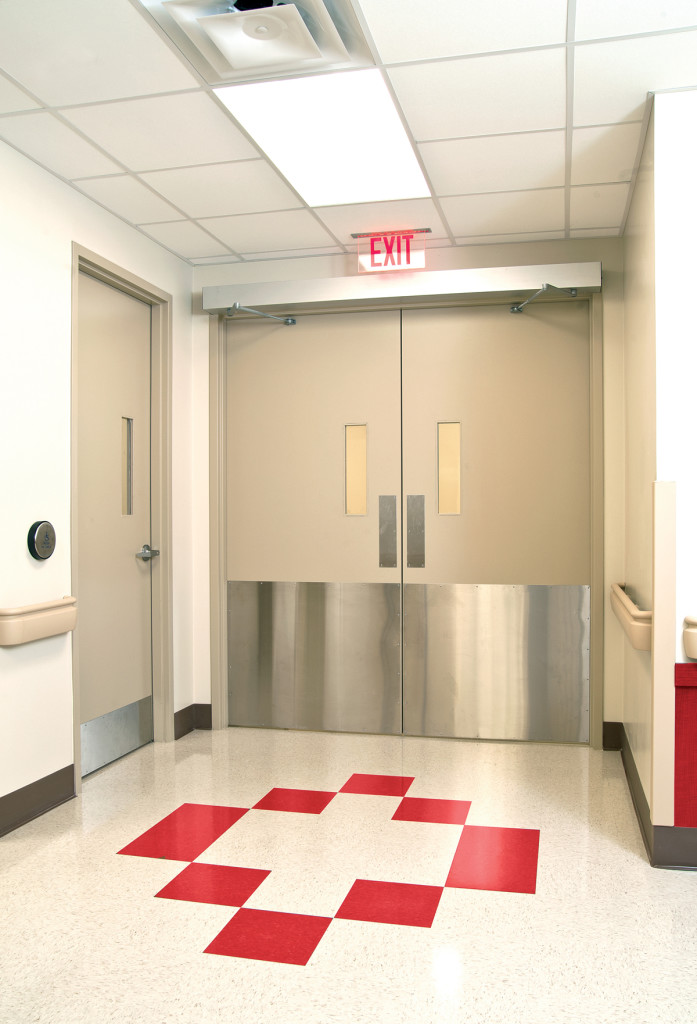 Low Energy Swing Door Operator for Barrier-free Access
For applications requiring barrier-free access, the DORMA ED700 low energy operator is the perfect solution. Simple and easy to install, the ED700 provides many features and functions to make existing swing doors easily accessible. Every closer is custom ordered to meet application requirements.
Wide variety of application possibilities
Extruded aluminum covers in custom lengths are available to match aesthetically with the door frame. The ED700 may be used for door widths up to 48″ (1220 mm) and a maximum weight of 200 lb (91 kg). For best accessibility, the operator can open the door up to an opening angle of 110°.
Features
– Slide track arm available for inswing applications.
– Full length header available on request.
– 5.5″ W x 5″ H Extruded Aluminum Header (140 × 127 mm).
– For inswing and outswing doors.
– Scissor-arm for inswing & outswing applications.
---
MODEL 888LM MyQ® Control Panel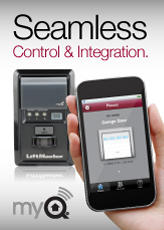 Upgrades LiftMaster® Security+® garage door openers (manufactured since 1998) to the new Security+ 2.0™ radio system and MyQ® Technology. (You must replace the existing control panel with the new 888LM MyQ® Control Panel.) This means that any LiftMaster® garage door opener manufactured since 1998 can be controlled with your smartphone, tablet or computer by using the 888LM MyQ® Control Panel (when paired with the LiftMaster® Internet Gateway, model 828LM). MyQ® technology enables you to manage, monitor and control everything from your garage door opener to lights and beyond, anytime, from anywhere.
---
MODEL 8550 Elite Series® DC Battery Backup Belt Drive
Battery Backup Features:
12VDC battery is always charged and ready
Simple battery installation (through the access door behind the light lens)
Audible signal alerts you when the battery is in use
Safety and security features still operate, ensuring your family is still protected in a power failure
Backup power will operate the garage door opener for 40 full cycles within a 24-hour period* (fully charged batteries at 72º F)

Standard Features:
Ultra-quiet DC motor belt drive system is durable and maintenance-free
Energy-efficient operation consumes up to 75% less power in standby mode
Equipped with MyQ® technology that lets you monitor and control your garage door and house lights remotely by using a computer or smartphone
Enclosed gear case provides continous lubrication for longer life and smoother operation
One-piece solid steel T-rail with automatic belt tensioner on trolley
Internal electronic limit settings and electronic/internal force sensing
Auto force – the garage door opener adapts to weather and changing environmental conditions, meaning less maintenance required
Timer-to-Close allows the door to automatically close after a pre-programmed number of minutes
The Smart Garage Door Opener® lets you electronically program security codes from the Smart Control Panel® or the powerhead
Quick-Connect™ terminals for faster wire installation
200 watts of light with adjustable light time delay; dual non-yellowing hinged light lens for easy bulb replacement; CFL bulb-compatible design
6-foot power cord makes connecting to a power source easier than ever; ideal for vaulted ceilings