Welcome to the new products page! Below you will find a list of new products relating to commercial overhead doors, overhead garage doors, garage door openers, access control systems, driveway gates, pedestrian gates and more!
---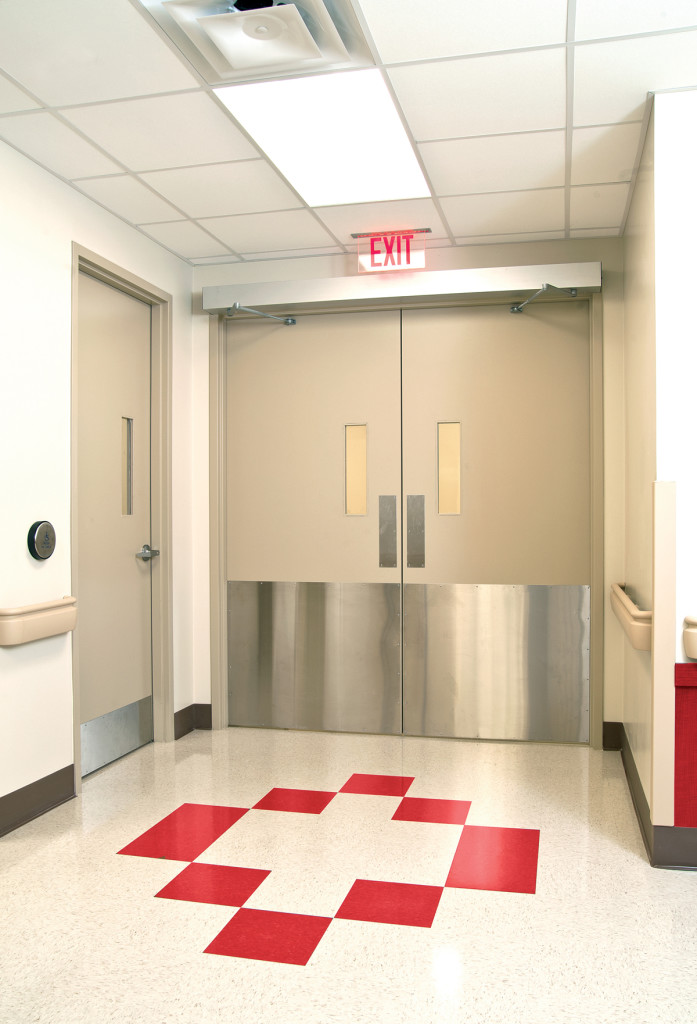 Low Energy Swing Door Operator for Barrier-free Access
For applications requiring barrier-free access, the DORMA ED700 low energy operator is the perfect solution. Simple and easy to install, the ED700 provides many features and functions to make existing swing doors easily accessible. Every closer is custom ordered to meet application requirements.
Wide variety of application possibilities
Extruded aluminum covers in custom lengths are available to match aesthetically with the door frame. The ED700 may be used for door widths up to 48″ (1220 mm) and a maximum weight of 200 lb (91 kg). For best accessibility, the operator can open the door up to an opening angle of 110°.
Features
– Slide track arm available for inswing applications.
– Full length header available on request.
– 5.5″ W x 5″ H Extruded Aluminum Header (140 × 127 mm).
– For inswing and outswing doors.
– Scissor-arm for inswing & outswing applications.
---
MODEL 888LM MyQ® Control Panel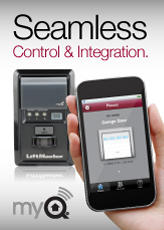 Upgrades LiftMaster® Security+® garage door openers (manufactured since 1998) to the new Security+ 2.0™ radio system and MyQ® Technology. (You must replace the existing control panel with the new 888LM MyQ® Control Panel.) This means that any LiftMaster® garage door opener manufactured since 1998 can be controlled with your smartphone, tablet or computer by using the 888LM MyQ® Control Panel (when paired with the LiftMaster® Internet Gateway, model 828LM). MyQ® technology enables you to manage, monitor and control everything from your garage door opener to lights and beyond, anytime, from anywhere.
---
MODEL 8550W Elite Series® DC Battery Backup Belt Drive
Standard Features:
MyQ Technology now with Wi-Fi®, lets users receive alerts and open and close the garage door from anywhere.
MyQ mobile app is a free download requiring no annual activation fee.
Works with MyQ; core features that allow you to control your garage door from anywhere, get activity alerts and set schedules are included with the MyQ app.
P3™ Motors provide proven reliability and durability.
DC Motor Belt System delivers powerful, ultra-quiet performance.
Battery Backup ensures access to your garage when the power goes out.
Dependable warranty includes lifetime coverage of motor and belt, five (5) years on parts and one (1) year on battery.
Automatic Garage Door Lock Capable (2 max.)
Automatic Garage Door Lock Capable; deadbolt locks the garage door, making it virtually impenetrable (2 max).
Security+ 2.0® safeguards garage access – with every click a new code is sent to the garage door opener ensuring the door does not inadvertently open.
Timer-to-Close automatically closes the door after a pre-programmed number of minutes.
Alert-2-Close Warning System provides audible and visual warnings when a garage door is about to close when using MyQ Technology or Timer-to-Close.
Motion Detector is integrated into control panel providing rapid detection and illumination of garage.
The Protector System® incorporates safety sensors which emit an invisible light beam across the garage door opening, automatically reversing the door if an object interrupts the beam.